First in Japan: EV charging manufacturer PLUGO has launched Green Charging™ which charges with 100% renewable energy and completed the acquisition of the renewable energy certificate for the first provision.
As a decarbonized startup, we have launched the initiative to solve the electric power source issue of EVs
We would like to announce that on September 1, PLUGO Inc. (Higashi-Gotanda, Shinagawa-ku, Tokyo, Representative Director & CEO: Naoki OKAWA) providing charging services for the spread of Evs, launched unique green charging™, which uses renewable energy such as solar and wind powers with no CO2 emissions, for all EV chargers provided by the Company, and completed the first procurement of 50,186.9kwh.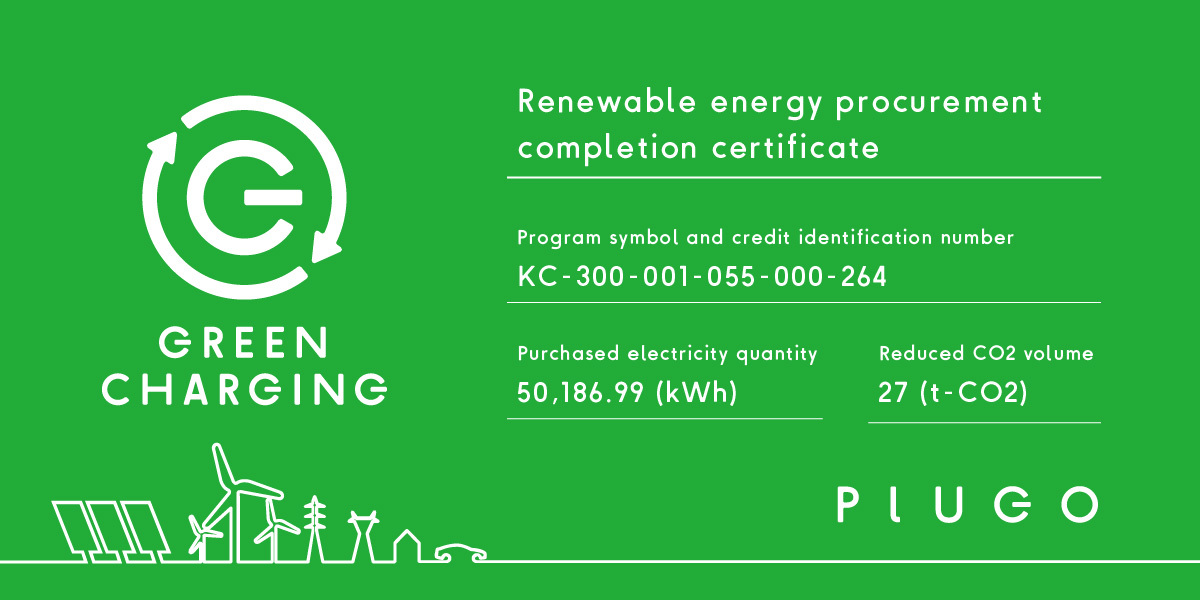 ■Background for Development of Green Charging™
In response to the global trend of decarbonization, the government has announced the 2050 Carbon Neutral Declaration and the goal of reducing greenhouse gases by 46% in FY2030 from the level in FY2013 in Japan as well. Based on them, the move toward EVs for automobiles and utilization of renewable energy have been accelerating.
In the current stage of Japan where electric power generation relying on fossil fuels is the mainstay, the value of reducing CO2 emissions which is one of the values of EVs is not fully exploited.  As a decarbonized startup, PLUGO has developed Green Charging™ for charging with 100% renewable energy this time, in order not only to promote the spread of infrastructure as a charging manufacturer but also to solve the electric power source issue of EVs.

(Source) Agency for Natural Resources and Energy "Comprehensive Energy Statistics"
■"Green Charging™ is possible" even if renewable energy is not generated in the facility where the charger is installed

Since renewable energy power generation usually requires large capital investment and construction work, it has   been a hurdle for the introduction by companies considering decarbonized management.  If PLUGO's charger is  introduced, Green Charging™, for which we launch services this time, will enable such companies to verify all electric power used for charging as substantially originating from renewable energy even for facilities without  renewable energy power generation equipment.
It is developed to promote ESG/SDGs measures by eliminating the cost of introduction for companies, local governments, facilities, organizations and others.
■Merits of Green Charging™ for introducing facilities
It is not necessary to change the electricity contract or make new capital investments other than those in the charging equipment.
It is possible to attract environmentally conscious customers/tourists.
Adoption of the charging method without CO2 emissions can be used for the "Environmental advertisement" and "Branding."
An example of the estimate for a golf course (Reference material: Estimated based on Osamu Saito, "Redundant Golf Courses: Ten Chapters to Consider the Possibility of Sustainability of Golf Courses in the Age of Declining Population" IKKI Publishing, December 28, 2012, pp28-41)
For an 18 hole golf course with the estimated emission of 900 tons/year, installation of PLUGO BAR will result in about 1% reduction of emissions.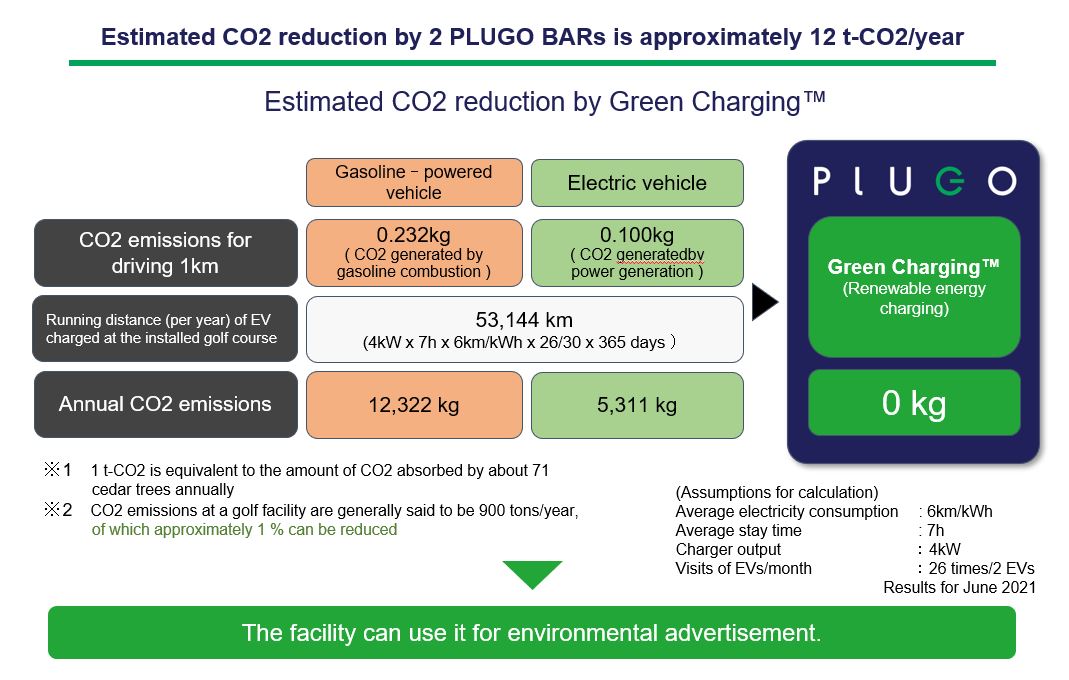 ■Future development
Realize local production for local consumption by Green Charging™ which utilizes renewable energy generated within the facility
An initiative of "Green Points" (tentative name) which can be used for activities that  Green Charging™  users  1can enjoy.
■EV charger: PLUGO BAR
In accordance with the space for installation, you can choose from 22 types of designs of wood, concrete, etc. It is possible to install it in harmony with various building by customization which is fit for the exterior and surroundings of facilities.
PLUGO BAR is eligible for subsidies under the charging equipment installation project of Next Generation Vehicle Promotion Center.
*For the overview of subsidies by Next Generation Vehicle Promotion Center, please check the following:
http://www.cev-pc.or.jp/#no02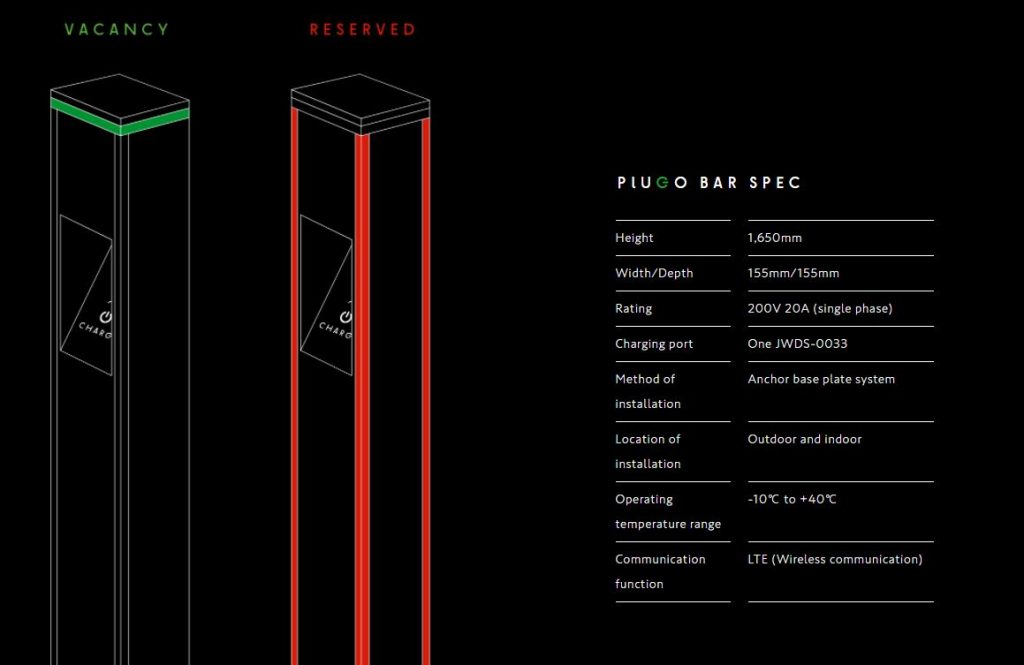 ■PLUGO Inc.: Overview
Representative: Naoki OKAWA, Representative Director & CEO
Establishment: July 18, 2018
Capital stock, etc.: 188 million yen (including capital reserve and stock acquisition rights)
Headquarters:  NMF Takanawa Building 8F, 2-20-4 Higashi-Gotanda, Shinagawa-ku, Tokyo 141-0022, Japan
U  R  L:https://www.plugo.co.jp