Seitaro Yamazaki, CDO of EV Charging Manufacturer PLUGO, Finishes Runner-up in the Final Round of the "YICCA PRIZE 2021 (YICCA Contemporary Art Contest)"
Selected from 18 finalists at an international competition which drew attention of artists around the world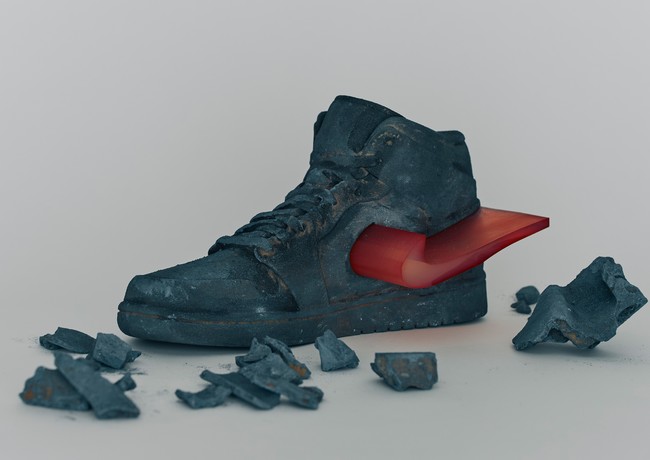 PLUGO Inc. (Higashi-Gotanda, Shinagawa-ku, Tokyo, Representative Director & CEO: Naoki OKAWA) is endeavoring to combine beautiful landscapes and EV charging infrastructure, using our power of manufacturing and design.
Now, we would like to report that our Chief Design Officer Seitaro Yamazaki finished runner-up in the world at an international contemporary art contest "YICCA PRIZE 2021 (YICCA Contemporary Art Contest / URL: https://yicca.org/) in which he participated as a finalist.
About the Award
Award received: Finishes runner-up in YICCA2021 award
Artist name: Seitaro Yamazaki
Title: Icon Made of Sand #1 "Nike AIR JORDAN 1" An artwork under the theme of the characteristics of "Symbols" in the consumer society with the motif of a new NIKE sneaker
Concept: How will our consumption look like from people in the future with different values? This work was created from such a simple question. In the lifestyle developed under the street culture of Tokyo, NIKE sneakers always exist as an absolute icon. This is a sculpture made of sand. This is made up with NIKE AIR JORDAN 1 made of sand and the logo mark made of acryl. It separates the part for a symbol-consuming icon and the part for a functional material, giving them different materials and times elapsed. Deconstruct a concept, give different times, and reconstruct two different elements. We like icons, live with icons and consume icons. This is a letter from the future to us who live in the present.
EV charging in Japan and abroad
The spread of EVs is expected to accelerate globally, as the European Commission announced to ban the sale of new cars with internal-combustion engines, including hybrid cars and plug-in hybrid cars, in 2035.
However, according to a survey on the spread of charging infrastructure in Japan conducted by ZENRIN, a major map company, ordinary chargers have decreased by 5.0% to 21,340 units, while quick chargers have increased by 0.3% to 7,893 units.
Initiatives to spread charging at destinations utilizing design management
Led by Seitaro Yamazaki with abundant track records of numerous design works for businesses in Japan and abroad, including the winning of this award, PLUGO will engage in the creation of the future which we would like to continue by not merely increasing the number of chargers at any costs, but by tackling various issues such as the system for promotion focusing on people centered on EV users, solution for the issues of traffic in the motorized society and harmony between new facilities and landscapes.
Installation at efficient locations—Plan installation in accordance with the movements and flows of EV users
Add convenient functions for the current EV users to charging stands in order to attract them from the destination facilities
Introduction of designs that save space and match the appearance of the facility for the installation
Propose the model with the maximum environmental noise reduction for cases with a limited installation space and for buildings with strong messages
Installation of EV facilities that do not damage the landscape at tourist destinations
EV charging stands may stand out in nature-rich tourist destinations due to their mechanical appearance.Propose designs and measures to make them in harmony with the landscape
SEITARO YAMAZAKI Curriculum Vitae
CDO / PLUGO Inc.
Representative, Art Director, Designer / Seitaro Design Inc.
Director / NPO ART WORKS
Director & CDO / JMC Corporation
Radio personality / FM Yokohama "Culture Department"
Creative Advisor / Tokyo 2020 Olympic and Paralympic Organization Committee
PLUGO Inc.
The Company was established in 2018 as a joint venture of two companies: Okawa Screw Manufacturing Co., Ltd. which has continued manufacturing automotive parts for 86 years since its foundation in 1934, and Seitaro design, inc. which engages in design branding business. It conducts its business aiming for sustainable innovation which multiplies the power of manufacturing, design and IOT to transform everything related to EVs into Omotenashi. Moreover, the Company not only develops products but also issues a free magazine PLUGO PAPER to promote the spread of EVs from the perspective of styles. In the midst of launches of EVs/PHVs by various manufacturers going forward, we will strive for wide deployment of the "Destination charging" infrastructure.
Company Profile
Location: 8F NMF Takanawa Building, 2-20-4 Higashi-Gotanda, Shinagawa-ku,TokyoZIP141-0022
Representative: Representative Director & CEO Naoki OKAWA
Capital stock: 188 million yen (including capital reserve and stock acquisition rights )
URL:https://www.plugo.co.jp